Most clients with thin hair who come into a hair salon only talk about volume and thickness. Of course. We all want what we cannot have. But in this very case, it is not completely out of reach. Here are 4 tips for women with thin hair who would like to avoid the stringy, the bodiless or the flat hair look.
Shampoo and Conditioner
Stay clear of 2 in 1 shampoos from the supermarket. They tend to be loaded with coating agents that not only do not benefit your hair but can weigh it down. As a matter of fact, you should stay clear of silicones in general for that reason.
Not all silicones are created equal: some are heavier than others. We, of course, are biased. We are against silicones in general. Avoiding them altogether will make things either for you. To spot them: in the list of ingredients, look for words ending in –cone and –xane.
Hair drying
Leaving your hair to dry naturally will give you the best results: preferably overnight in braids or any other style that will bring texture to your hair.
If you are pressed with time, drying your hair with a hair drier will unfortunately play against you. The residual heat after the use of a hair drier will tend to make your hair limp. You actually need colder air to "fix" your strands in place. So first, dry your hair and then blast it on the cold setting to get rid of the heat.
Styling products
Avoid gels. They will give you that dreaded stringy (and greasy) look. Instead, use a spray or a mousse to add structure to your hairstyle instead of weighing on it.
Hair styling
If you have short to mid-length hair, here is a good way to style it:
Take a seat
Bring your head down and throw your hair over
With one hand, crunch your roots to lift them
With the other, blast your hair on the cold setting of the drier
If you liked these tips, make sure to share this article with a friend.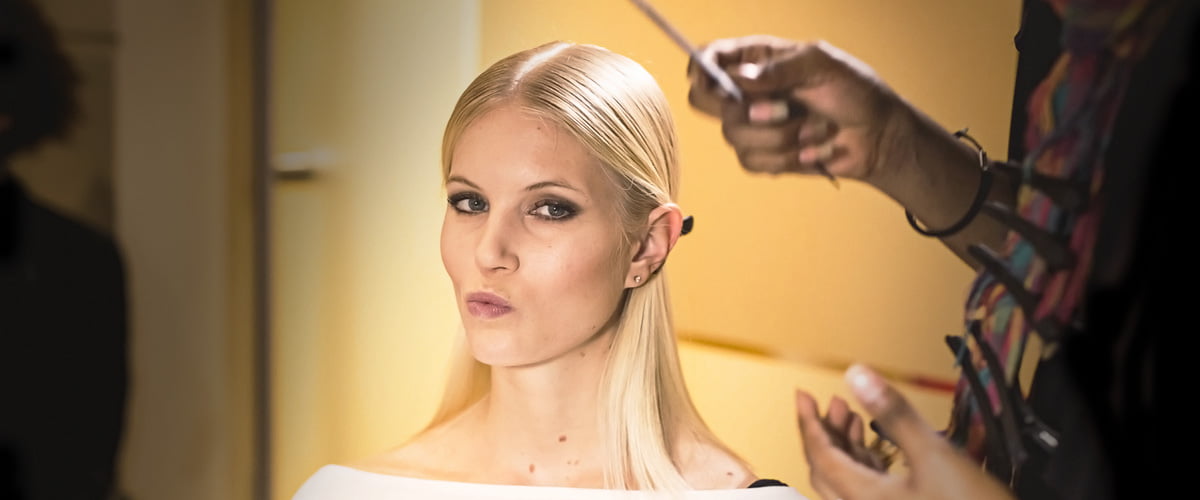 Antonin .B – official hair partner of Green Fashion Week, Rome
Antonin .B products are favorites of ELLE and Harper's Bazaar !
We have been serving clients in 37 countries, only using natural ingredients enhanced with innovative green science.
This approach has led to features in top magazines across the world, from the USA to Denmark or Singapore: Vogue, ELLE, Harper's Bazaar, Marie Claire, and more.
We also won multiple awards such as the prestigious Harper's Bazaar hair awards and Sustainable Luxury awards.
Ana Green, blogger and judge at the Beauty Shortlist awards, says of our hair serum that its formula "reads like a high end facial serum".

At Antonin .B we create high-performing, uncompromising formulas for those who refuse to compromise on their beauty rituals and their sustainable lifestyle.
The Street Fix is a mineralizing hairspray that provides light to medium hold, body, texture and volume. It is particularly well-suited for people with thin and fine hair for whom it helps create the appearance of density. It is also compatible with hot styling tools.
Kendy .B (Bourguignon) Sencée is a hair catwalker, turned hair enthusiast, turned backstage hair designer.
She grew up in the Caribbean island of Guadeloupe. Creating Antonin .B allowed her to bring together traditional and natural beauty secrets with modern green science.
Kendy approaches hair care from two angles at once: She wants your hair to look but also be healthy. And, in the process, she wants to do what she can to contribute to a better environment.
If I could teach people one thing about hair care, it would be that you don't need more you just need better.

— Kendy, Founder of Antonin .B
What people are saying about us
My congratulations for this product which is amazing.. I sprayed it on my hair after washing it and it gave bounce and volume to my curls. And it felt like I had twice as much hair!

— Christelle C. (about Street Fix hair spray)
100% of natural origins, 100% ecochic
Antonin .B products are made with 100% nature-sourced premium ingredients and green innovation.
Our products contain 0% of silicones, mineral oils, parabens, phtalates and are free of all undesirable ingredients often found in conventional hair products.