You do like your skin glowy and toxin-free, don't you? In your laborious cycle of searching for and maintaining the perfect, spotless skin, you might have turned to high-end and high-performing organic products. This is a great start. But here is something you might have missed.
We focus a lot on skincare products (rightfully so); but what we fail to realize is that other products we use and apply in our everyday beauty regimen actually do impact our skin and can have significant effects.
Your haircare is part of your skincare
Here at Antonin .B, since we deal with hair every single day, we often hear "It's just hair". Yes, but at some point, haircare is skincare; and this is true for everyone—unless, of course, you exclusively wear your hair in a bun and only sleep on your back—all night, no exception. We all know that's unrealistic.
When the wind blows your hair into your face and your mouth, when your hair rubs against your pillow and your scarves, and worse… when it rains, then at that very moment, your hair care becomes your skincare.
If you do not select your hair products with as much care as you do your skincare products, you run the risk of lessening the efforts you have put into a well thought-out and high-performing skincare routine.
What does this mean?
It really means 2 things. First, if you have sensitive skin and have opted for paraben-free and formaldehyde-free organic products, you would also want to avoid hair care products that contain formaldehyde releasing or irritating preservatives like urea or (metyl)isothiazolinone. All the ingredients you want to avoid on your face should also be avoided in your hair.
Second, it means that you are already on the right path. The good habits you have taken when selecting products for your face will help you when it comes to choosing products for your hair. You're already half-way there.
Ingredients to avoid in hair care
We are fully engaged on the natural path and would recommend you go organic and truly natural. Avoid petroleum and mineral oils. They will do nothing for your hair and might clog your pores. The same is true with silicones. These are very easy to spot. In the ingredient lists, they end in –cone and –xane. Depending on the price point of the product, the silicones used are more or less sophisticated or volatile but all they do is mask the real state of your hair and skin under a more or less thin plastic-like layer.
In your hair products, it would be best to avoid BTMS (behentrimonium methosulfate). This substance is usually derived from natural oils which are chemically processed. That in itself is not a problem. Unfortunately, the outcome is a potentially irritating ingredient to people with sensitive skin; and in addition to that, it is hard to break down and is a mild pollutant. This is why it is prohibited in European certified organic cosmetics.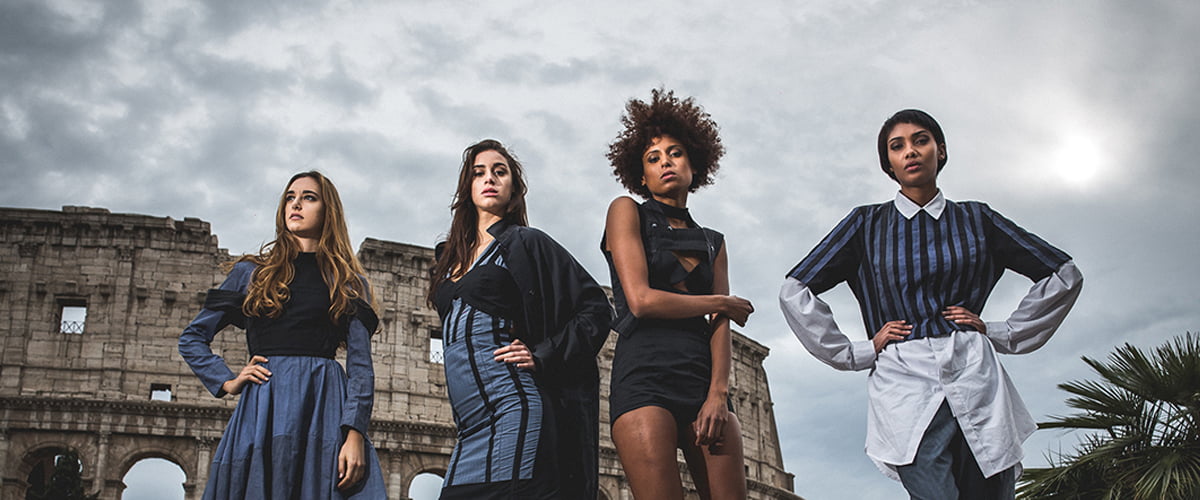 Antonin .B – official hair partner of Green Fashion Week, Rome
Antonin .B
We have worked on 100% nature-sourced formulas that are made for your hair and respectful of your skin.
Our products are made exclusively with natural ingredients, most of which are organically grown. And we have enhanced the formulas with green, non-polluting, innovative science for a better ease of use and more immediate results.
We are happy and proud to say that our formulation efforts have led to a few awards.

At Antonin .B we create high-performing, uncompromising formulas for those who refuse to compromise on their beauty rituals and their sustainable lifestyle.
Our bestseller, the Ceramides Enriched Desert Serum, is a lightweight and versatile hair serum for all hair types that strengthens, smooths and provides shine. It is a favorite of those with color-treated hair.
Kendy .B (Bourguignon) Sencée is a hair catwalker, turned hair enthusiast, turned backstage hair designer.
She grew up in the Caribbean island of Guadeloupe. Creating Antonin .B allowed her to bring together traditional and natural beauty secrets with modern green science.
Kendy approaches hair care from two angles at once: She wants your hair to look but also be healthy. And, in the process, she wants to do what she can to contribute to a better environment.
If I could teach people one thing about hair care, it would be that you don't need more you just need better.

— Kendy, Founder of Antonin .B
What people are saying about the Desert Serum
After several months of hesitation I ended up buying your serum and the intense butter. […] Frankly I regret delaying. Your serum is the best and I have many. Thank you for offering products of such good quality, once I finish I will not hesitate to buy again.

— Thérèse C.
I noticed effects on shine and frizz after the very first use and with time on the texture of the hair. My hair is thicker, stronger and remains light.

— Maude N.
100% of natural origins, 100% ecochic
Antonin .B products are made with 100% nature-sourced premium ingredients and green innovation.
Our products contain 0% of silicones, mineral oils, parabens, phtalates and are free of all undesirable ingredients often found in conventional hair products.